Transactions on the floor of the Nigerian Exchange on Wednesday closed on a bearish note, occasioned by 10.00% decline in the share prices of Airtel Africa and other 13 stocks.
The All Share Index dropped further by 1.88% to close at 53,018.97 points from the previous close of 54,035.39 points.
Investors' wealth plunged by N553 billion as Market Capitalisation nosedived by 1.88% to close at N28.883 trillion from the previous close of N29.436 trillion.

An aggregate of 197 million units of shares were traded in 3,506 deals, valued at N2.67 billion.
The Market Breadth closed negative as 11 equities emerged as gainers against 14 equities that declined in their share prices.
Percentage Gainers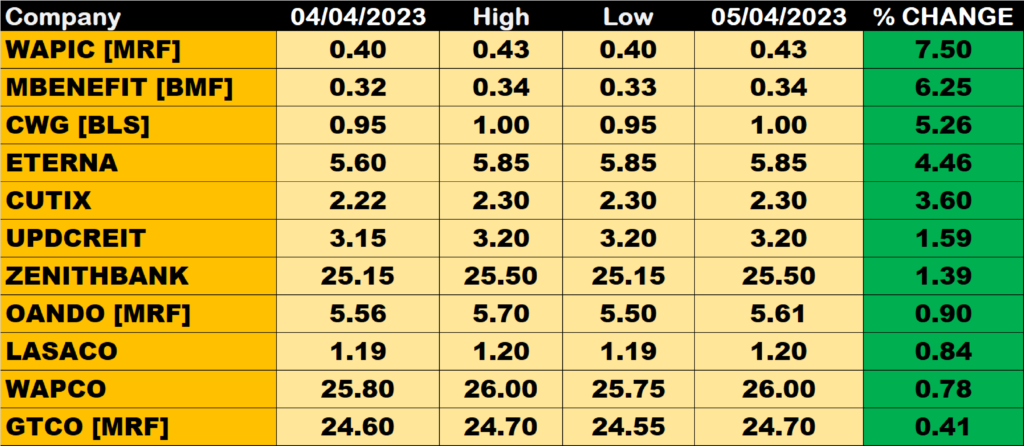 WAPIC led other gainers with 7.50% growth, closing at N0.43 from N0.40
Mutual Benefits and CWG among other gainers also grew their share prices by 6.25% and 5.26% respectively.
Percentage Losers
Airtel Africa led other price decliners as it shed 10.00% of its share price to close at N1331.10 from the previous close of N1479.00.
Ikeja Hotel, MULTIVERSE and Royal Exchange among other price decliners also shed their share prices by above 9.00% each.
Volume Drivers

UBA traded about 64 million units of its shares in 217 deals, valued at N536.7 million.
Zenith Bank traded about 16 million units of its shares in 347 deals, valued at N402.6 million.
TRANSACORP traded about 32 million units of its shares in 148 deals, valued at N44 million.
Source: Airtel Africa leads losers as stock market drops further by 1.88% – StocksWatch (stocksng.com)