Trading on the floor of the Nigerian stock market last week closed bearish again amidst profit taking in 39 equities.
The All Share Index and Market capitalization declined by 0.44% to settle at 49,475.42 points and N26.686 trillion respectively.
An aggregate of 719.4 million units of shares were traded in 17,447 deals, valued at N8 billion.
The market breadth closed negative as 13 stocks gained against 39 stocks that declined in their share prices.
TOP 10 GAINERS
MULTIVERSE led other gainers in the course of last week with 18.64% growth, closing at N2.80 from the previous close of N2.36.
ABC Transport, Honeywell Flour, CADBURY and PHARMADEKO grew their share prices by 7.14%, 5.78%, 5.77%and 5.13% respectively.
Other top 10 gainers include: Academy Press (4.76%), Regency Alliance (4.17%), NPF Microfinance Bank (3.75%), NAHCO (2.68%) and COURTVILLE (2.08%) respectively.
TOP 10 LOSERS
Redstar Express led other price decliners, shedding 12.59% of its share price to close at N2.36 from the previous close of N2.70.
BETAGLASS, Consolidated Hallmark Insurance, LEARN AFRICA and FCMB shed their share prices by 9.96%, 9.52%, 8.44% and 7.71% respectively.
Other price decliners include: TRIPPLEG (-6.90%), UACN (-6.82%), Fidelity Bank (-6.58%), Cornerstone Insurance (-6.25%) and ACCESSCORP (-6.21%) respectively.

GAINERS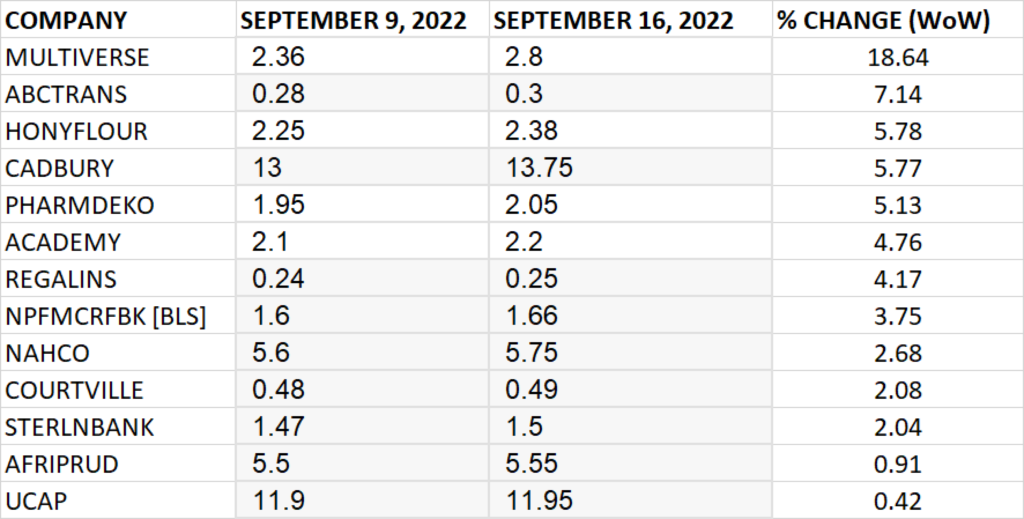 LOSERS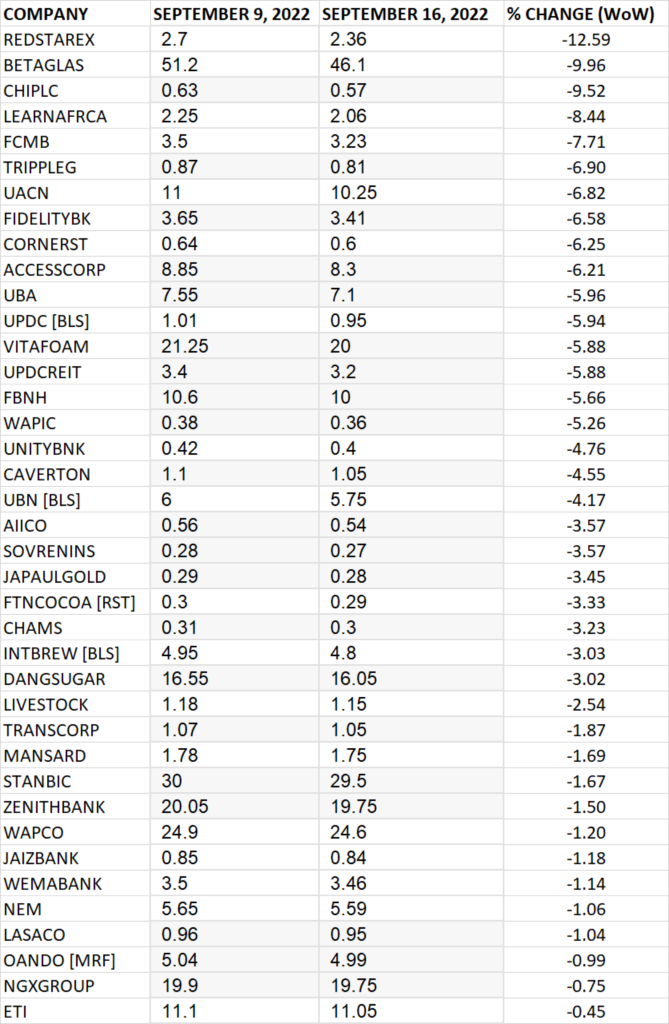 Source: Down trend persists on NGX, returns -0.44% WtD – StocksWatch (stocksng.com)