The Nigerian stock market in the course of last week dipped by 0.45% as 36 equities shed weight, occasioned by profit taking.
The All Share Index and Market capitalization declined by 0.45% to settle at 51,979.92 and N28.031 trillion respectively.
An aggregate of 917 million units of shares were traded in 19,513 deals, valued at N14.803 billion.
The market breadth closed negative as 19 stocks gained against 36 stocks that declined in their share prices week on week.
TOP 10 GAINERS
Cornerstone Insurance led other gainers in the course of last week with 26.32% growth, closing at N0.72 from the previous close of N.57.
Seplat also gained 10% to stand at N1430.50 from N1300.50 previously gained. Linkage Assurance, The Initiates and RT BRISCOE grew their share prices also by 9.43%, 9.09% and 8.11% respectively.
Other among the top 10 gainers include: Wema Bank (6.68%), CUTIX (5.78%), Fidson (5.10%), GLAXOSMITH (4.92%) and eTRANZACT (4.55%) respectively.
TOP 10 LOSERS
NAHCO led other price decliners, shedding 33.73% of its share price to close at N5.50 from the previous close of N8.30.
CAVERTON, HONEYWELL, FTN COCOA and Nigerian Breweries shed 16.79%, 14.55%, 14.29% and 10.92% respectively.
Other price decliners include: May & Baker (-10.00%) Consolidated Hallmark Insurance (-8.11%), International Breweries (-6.90%), WAPCO (-6.77%), and Unity Bank (-6.67%) respectively.

GAINERS
LOSERS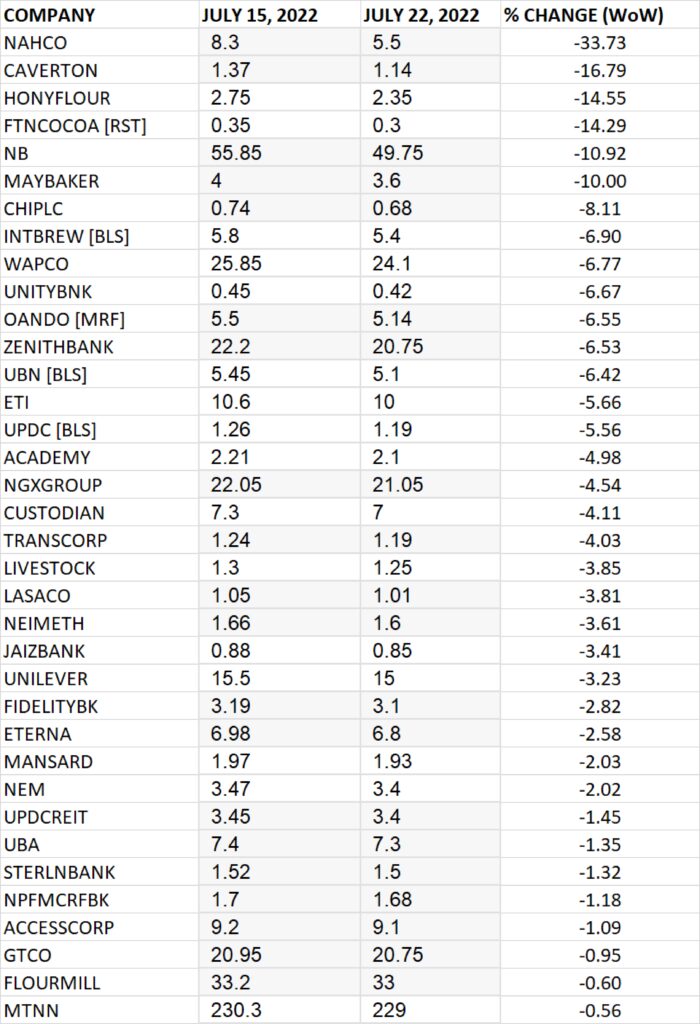 Source: Market returns -0.45% WtD amidst profit taking – StocksWatch (stocksng.com)