Trading on the floor of the Nigerian Exchange last week closed bearish as the Telecom giants; MTN Nigeria and Airtel Africa as well as other 49 stocks closed the week lower on profit taking.
The All Share Index and Market capitalization declined by 2.68% and 2.67% to settle at 51,778.08 points and N27.914 trillion respectively.
An aggregate of 940.9 million units of shares were traded in 20,077 deals, valued at N11.5 billion.
The market breadth closed negative as 13 stocks gained against 51 stocks that declined in their share prices.
TOP 10 GAINERS
LEARNAFRICA led other gainers in the course of last week with 15.74% growth, closing at N2.50 from the previous close of N2.16.
Sunu Assurance, TRIPPLEG, ELLAHLAKE and Living Trust Mortgage grew their share prices by 9.37%, 9.20%, 8.40% and 5.26% respectively.
Other top 10 gainers include: UACN (4.55%), Fidelity Bank (2.74%), Sterling Bank (1.97%), Cornerstone Insurance (1.64%) and Consolidated Hallmark Insurance (1.49%) respectively.
TOP 10 LOSERS
Beta Glass led other price decliners, shedding 18.15% of its share price to close at N51.20 from the previous close of N62.55.
Livestock Feeds, International Breweries, CUTIX and MEYER Plc shed their share prices by 16.88%, 14.97%, 10.74% and 10.00% respectively.
Other price decliners include: Conoil (-10.00%), Etranzact (-9.96%), CAP Plc (-9.93%), MCNICHOLS (-9.76%) and ARDOVA (-9.70%) respectively.

GAINERS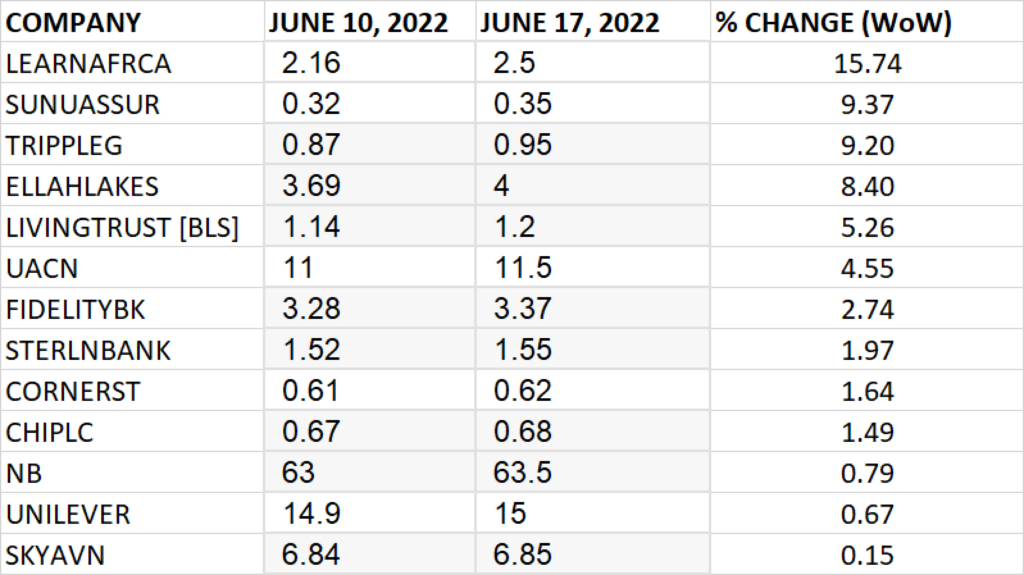 LOSERS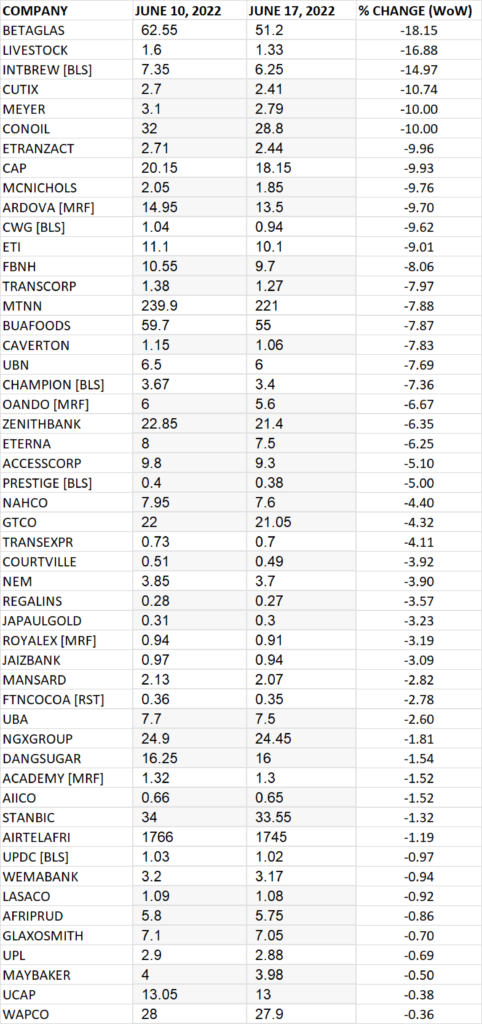 Source: Market returns -2.68% WtD, sheds N767bn – StocksWatch (stocksng.com)