It was yet another bearish session onthe floor of the Nigerian equities market as the All Share Index declined further by 1.04% to close at 49,667.14 points against the previous close of 50,188.55 points on Wednesday.
The market capitalisation closed at N26.783 trillion, down by 1.04% from N27.065 trillion recorded in the last session.

Aggregate volume at end of Thursday's session dropped by 75.14% to 206.2 million units while the traded stocks valued at N3.9 billion in 5,053 deals.
Market Breadth
The market breadth closed negative as 10 stocks gained against 28 that declined in their share prices.
Percentage Gainers
UPDC REAL ESTATE INVESTMENT TRUST with 9.23% growth, led the gainers to close at N3.55 from the previous close of N3.25.
RT BRISCOE and CHAMS Plc among other gainers also grew their share prices by 8.57% and 8.33% respectively.
Percentage Losers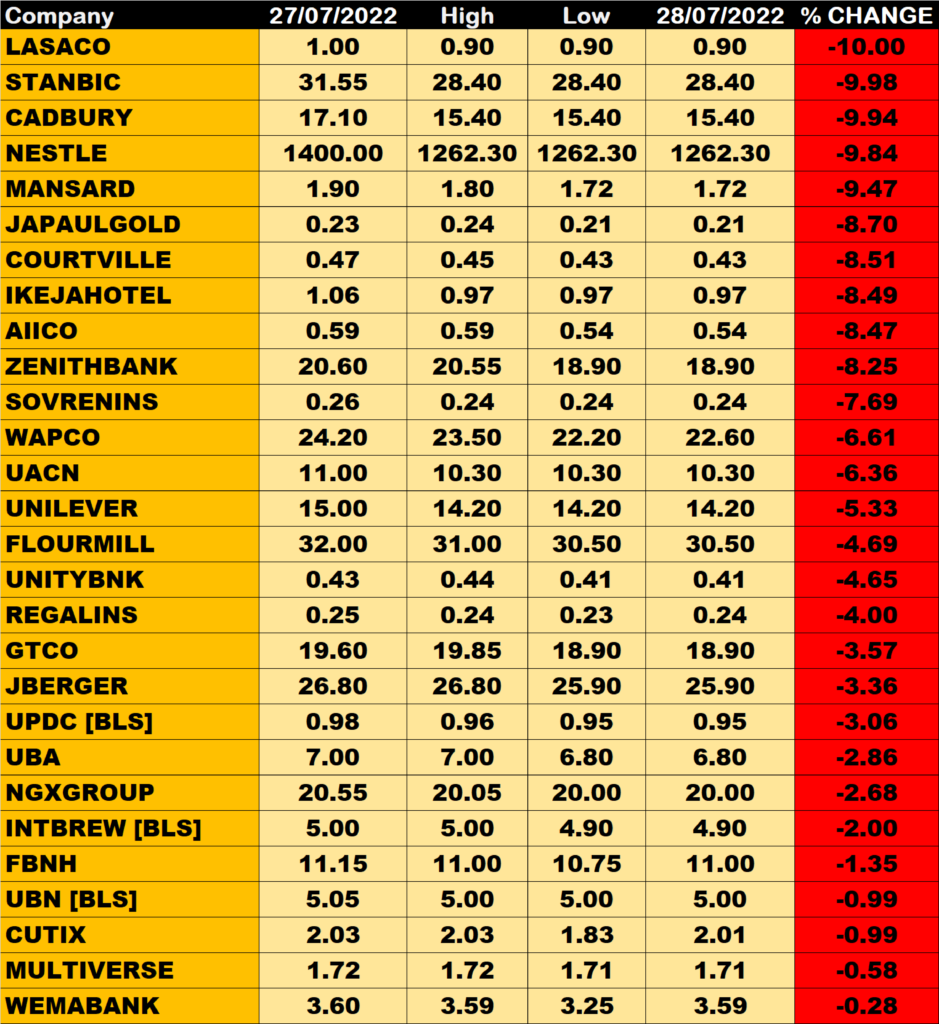 LASACO ASSURANCE, STAMBIC IBTC and CADBURY among others 25 stocks shed their share prices by 10.00%, 9.98% and 9.94% respectively.
Volume Drivers
Zenith Bank traded about 16.9 million units of its shares in 723 deals, valued at about N333.7 million.
Transcorp traded about 38.5 million units of its shares in 195 deals, valued at about N39 million.
GTCO traded about 12.7 million units of its shares in 570 deals, valued at N244.8 million.
Source: Nigerian Bourse sheds N282bn as ASI decline further by 1.04% – StocksWatch (stocksng.com)