It was yet another bearish session on the floor of the Nigerian stock market on Tuesday as downtrend extended.
The All Share Index dropped by 0.27% to close at 54,035.39 points from the previous close of 54,184.34 points.
The Market Capitalisation declined by 0.28% to close at N29.436 trillion from the previous close of N29.518 trillion, thereby shedding N82 billion.
An aggregate of 296.7 million units of shares were traded in 4,590 deals, valued at N3 billion.
The Market Breadth closed negative as 14 equities emerged as gainers against 21 equities that declined in their share prices.
Percentage Gainers
SCOA led other gainers with 10.00% growth to close at N0.99 from the previous close of 0.90.
NAHCO, Linkage Assurance and Sunu Assurance among other gainers also grew their share prices by 9.55%, 9.09% and 8.51% respectively.
Percentage Losers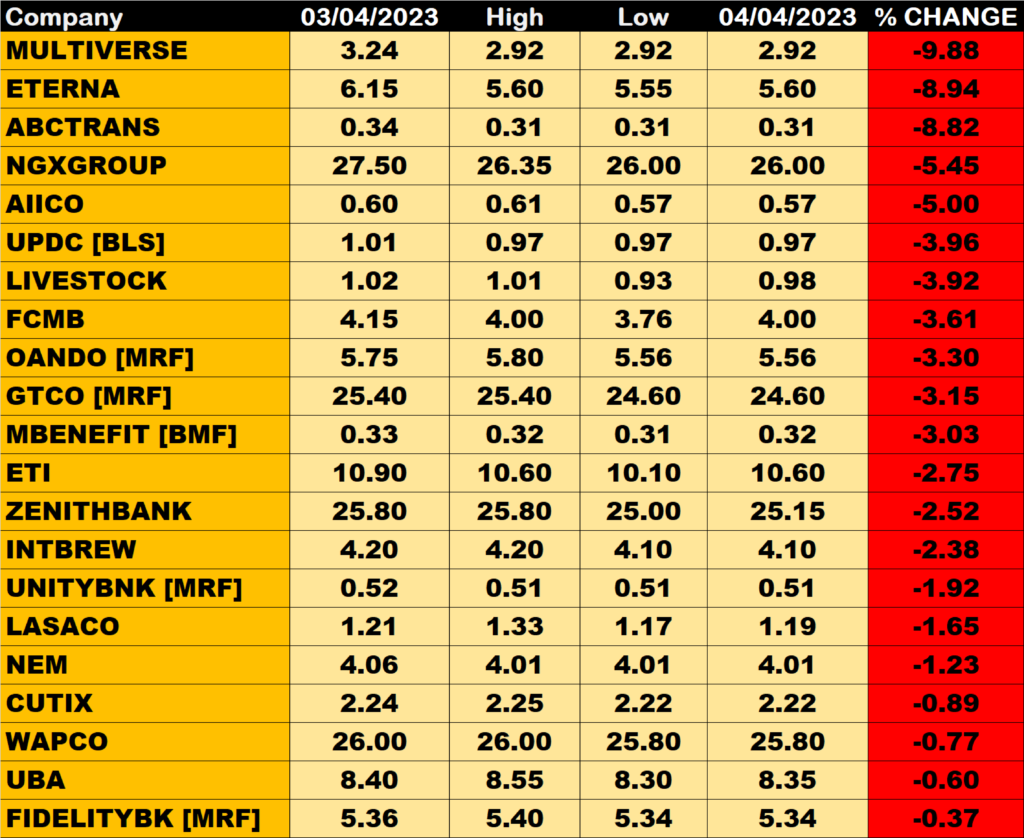 MULTIVERSE led other price decliners as it shed 9.88% of its share price to close at N2.92 from the previous close of N3.24.
Eternal Oil and ABC Transport among other price decliners also shed their share prices by 8.94% and 8.82% respectively.
Volume Drivers

Fidelity Bank traded about 46.6 million units of its shares in 90 deals, valued at N249.4 billion.
OANDO traded about 33 million units of its shares in 213 deals, valued at N187.9 million.
UBA traded about 21 million units of its shares in 256 deals, valued at N180 million.
Source: Stock market extends down trend by 0.27% – StocksWatch (stocksng.com)