The Nigerian stock market closed lower last week, occasioned by profit taking in MTN and 41 other stocks.
The All Share Index and Market capitalization dropped by 0.22% to settle at 52,979.96 and N28.562 trillion respectively.
An aggregate of 3.02 billion units of shares were traded in 29,151 deals, valued at N31.78 billion.
The market breadth closed negative as 37 stocks gained against 42 stocks that declined in their share prices.
TOP 10 GAINERS
MCNICHOLS led other gainers in the course of last week with 58.96% growth, closing at N2.13 from the previous close of N1.34.
Transcorp Hotel, Northern Nigerian Flour Mills, Abbey Mortgage Bank and PZ grew their share prices by
20.70%, 20.60%, 20.44% and 12.07% respectively.
Others among top 10 gainers include: Cadbury (11.32%), NEM Insurance (11.14%), Beta Glass (9.74%), MRS (9.68%), and Sovereign Trust Insurance (7.69%) respectively.
TOP 10 LOSERS
Royal Exchange Plc led other price decliners in course of last week, shedding 25.49% of its share price to close at N1.14 from the previous close of N1.53.
Academy Press, FTN Cocoa, May & Baker and Glaxosmith shed their share prices by 18.54%, 15.79%, 14.65% and 12.03% respectively.
Others among top 10 price decliners include: NPF Microfinance Bank (-11.79%), Champion Breweries (-10.76%), Flour Mills (-10.74%), Learn Africa (-10%) and Global Spectrum Energy (-9.79%) respectively.

GAINERS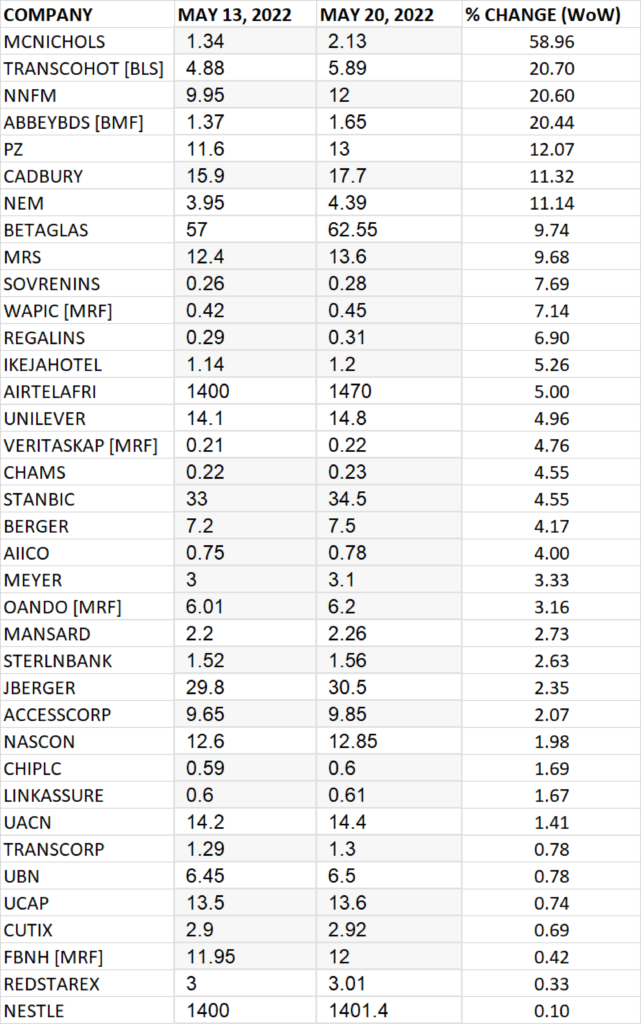 LOSERS
Source: Market down by 0.22% WtD on profit taking – StocksWatch (stocksng.com)