The Nigerian stock market last week closed on a bullish note, occasioned by growth in the share price of BUA Cement, MTN, Airtel, Presco, Okomu and 44 other stocks.
The All Share Index and Market Capitalisation grew by 2.61% week on week by 50,935.03 points and N27.460 trillion respectively.
An aggregate of 1.598 billion units of shares were traded in 21.494 deals, valued at N19.6 billion.
The market breadth closed positive as 49 stocks emerged as gainers against 32 stocks that declined in their share prices.
TOP 10 GAINERS
Champion Breweries led other gainers in the course of last week with 32.54% growth, closing at N3.34 from the previous close of N2.52.
International Breweries, Cadbury, Fidson and Nigerian Breweries grew their share prices by 32.35%, 32.20%, 23.07% and 22.59% respectively.
Other top 10 gainers include: Eterna Plc (20.60%), Learn Africa (20.51%), MCNICHOLS (20%), University Press (20%) and Academy Press (19.05%) respectively.
TOP 10 LOSERS
Oando Plc led other price decliners, shedding 11.75% of its share price to close at N5.56 from the previous close of N6.30.
Trans-Nationwide Express, AXA Mansard, Living Trust Mortgage Bank and Transcorp Hotel shed 9.88%, 9.84%, 9.68% and 9.09% respectively.
Other top 10 price decliners include: Ikeja Hotel (-8.57%), NEM Insurance (-8.41%), FCMB (-7.22%), Regency Alliance (-6.25%) and Veritas Kapital Assurance (-4.55%) respectively.
GAINERS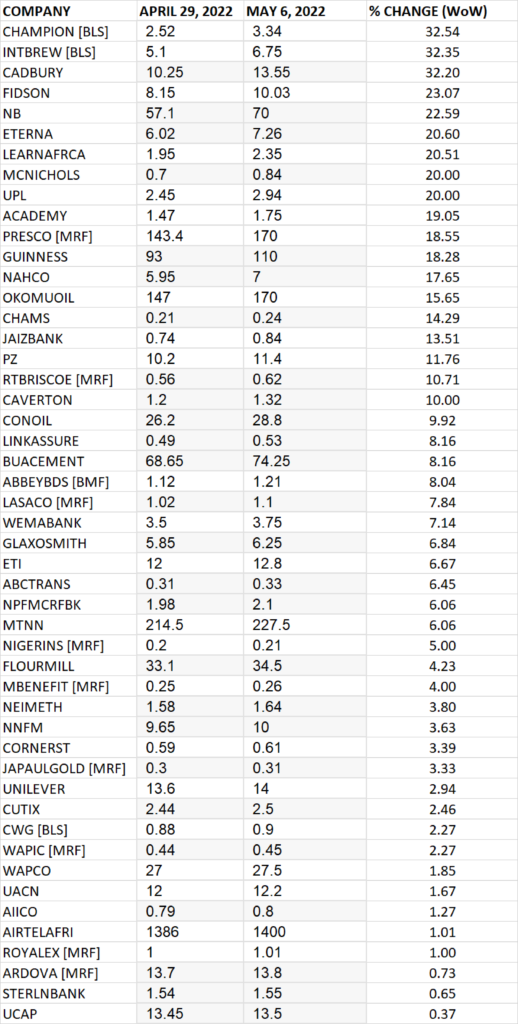 LOSERS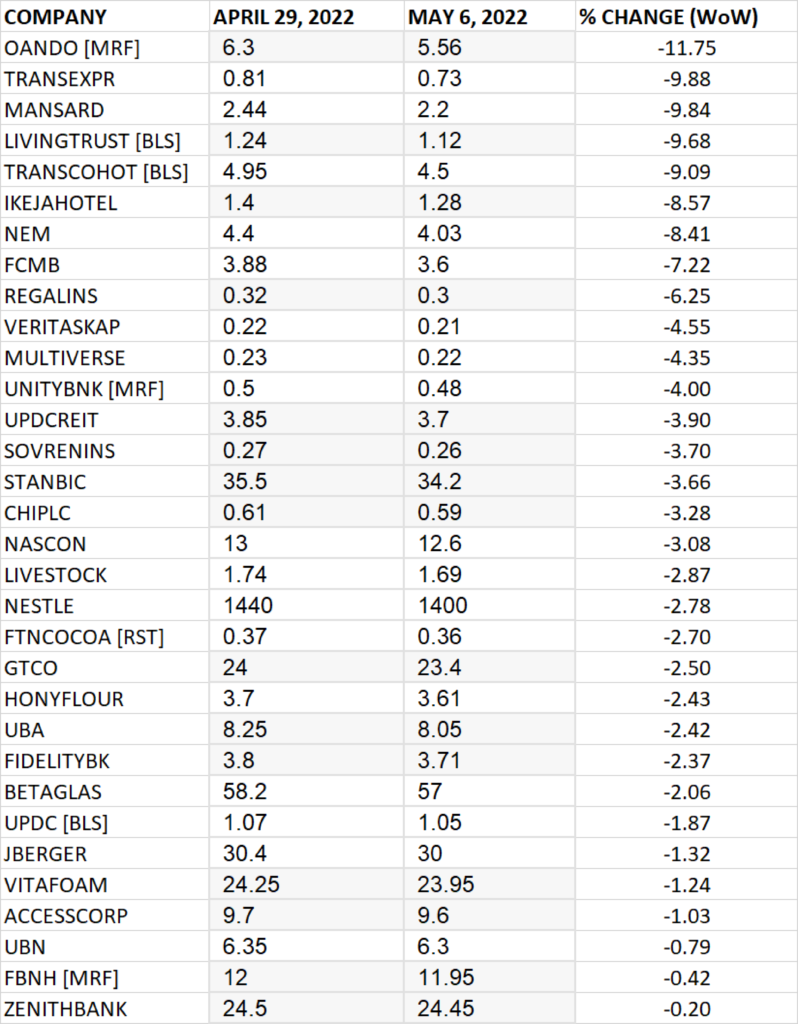 Source: Market extends weekly gain by N699bn, returns 2.61% – StocksWatch (stocksng.com)