The Nigerian stock market on Tuesday stayed afloat on the gains in MTN Nigeria, SEPLAT, Total Energy and some blue chip stocks that closed the day higher.
The All Share Index grew by 1.30%, closing at 60,108.86 points from the previous close of 59,338.76 points on Monday.
Market capitalisation closed at N32.730 trillion, advancing by 1.30% from the previous close of N32.309 trillion, adding N421 billion.

An aggregate of 763.7 million units of shares were traded in 9,463 deals, valued at N12.5 billion.
Market Breadth
Market breadth closed positive as 51 stocks gained against 13 that lost.
Percentage Gainers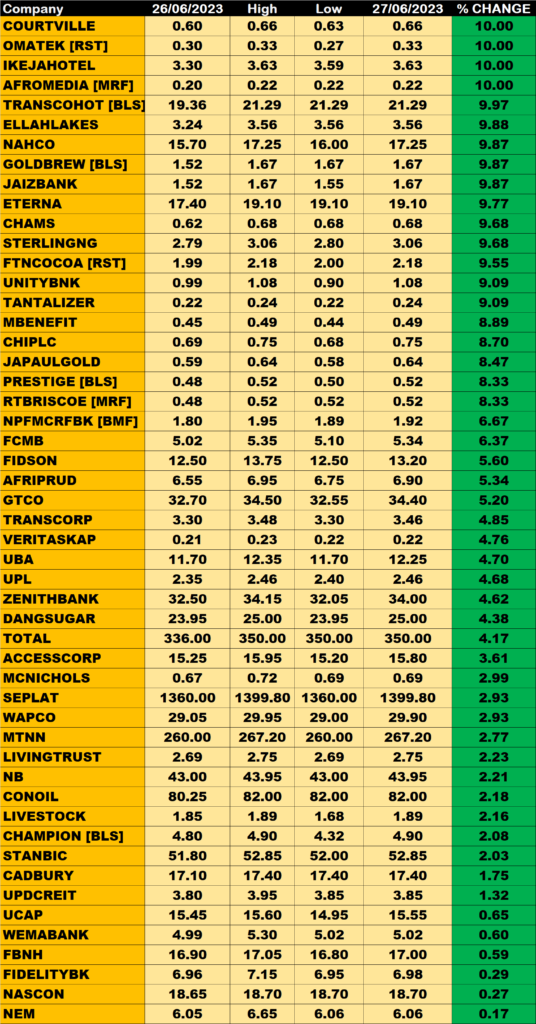 COURTVILLE, OMATEK, Ikeja Hotel, AFROMEDIA led other gainers growing by 10.00% each.
Transcorp Hotel, ELLAHLAKE and NAHCO among other gainers also grew their share prices by 9.97%, 9.88% and 9.87% respectively.
Percentage Losers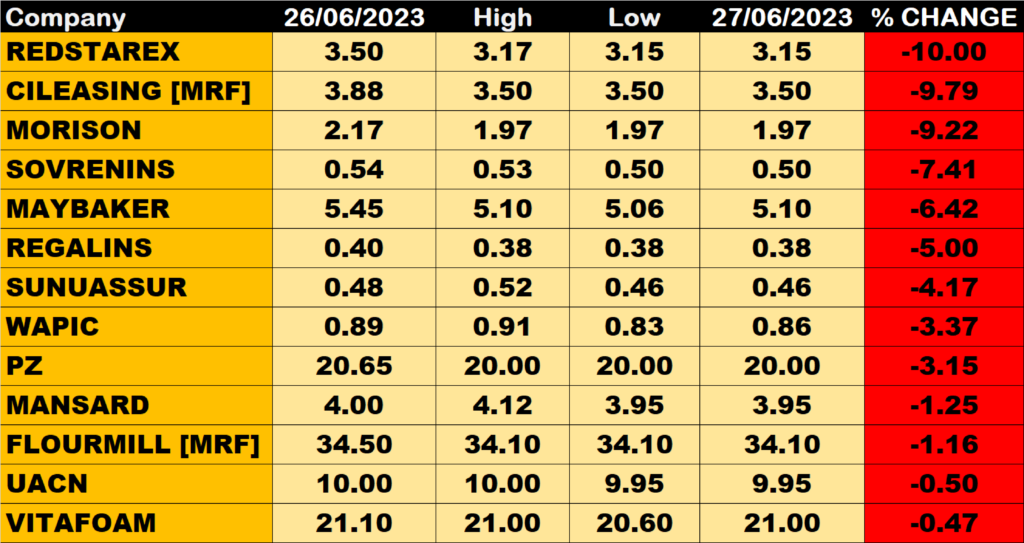 Redstar Express, C & I Leasing and MORISON shed 10.00%, 9.79% and 9.22% of their stock values respectively.
Volume Drivers

ACCESSCORP traded about 111.7 million units of its shares in 654 deals, valued at N1.7 billion.
UBA traded about 72 million units of its shares in 624 deals valued at N878 million.
Guaranty Trust Holding Company traded about 79 million units of its shares in 964 deals, valued at N2.7 billion.
Source: Stock market stays 1.30% afloat, buoyed by gains in MTN Nigeria, others – StocksWatch (stocksng.com)